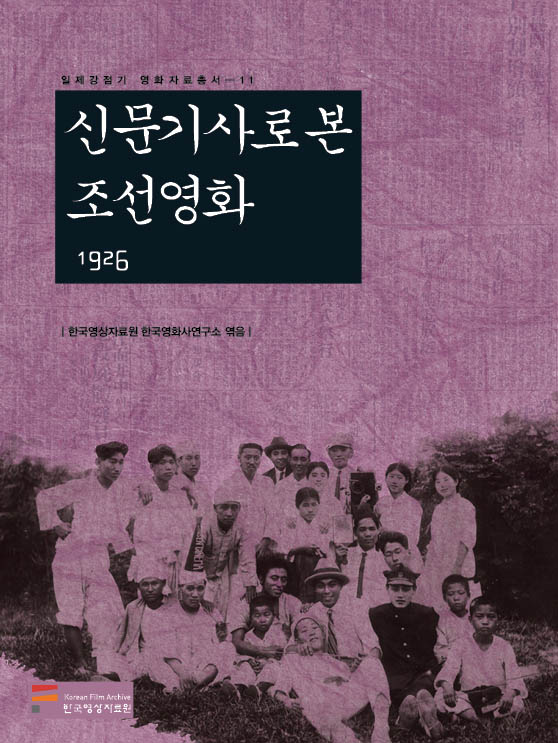 [ Joseon Films in Newspaper Articles ]
Joseon Films in Newspaper Articles in 1926
2014 l Korean Film Archive
As the seventh issue of the series that arranges news articles related to films, entertainment and advertisements from the newspapers of Joseon circulated during Imperial Japanese colonial rule chronologically, this book offers a vast collection of news articles related to films and entertainment which were carried in the Meilsinbo, Chosun Ilbo, Dong-a Ilbo, and Sidae Ilbo in 1926.

The Golden Era of Silent Movie Production
More than anything, 1926 is remembered in the Korean film history as the year of Arirang. The movie, which premiered at the Dansungsa Theater on October 1, 1926, gained attention as a superb production of Joseon Kinema and received good reviews. However, it is interesting that until 1926, there weren't many articles or rave reviews about the movie, as if the newspaper industry failed to predict that this movie would be hailed as a legend in Korean film history. Following Arirang, numerous silent films were released in the same year including Eternal Love of Su-il and Sun-ae (Janghanmong), Nongjungjo and A Child of Winds and Clouds. The fact that films with high perfection or popular and acclaimed films were consecutively released in 1926 showed that Joseon movies were evolving into a new phase.

Hollywood! Hollywood!
The strong interest in Hollywood that started in 1925 continued through the next year. Gossip about reigning Hollywood actors such as Charlie Chaplin, Douglas Fairbanks, and Lillian Gish filled pages of the newspapers. In particular, the sudden death of Rudolph Valentino, the ultimate Hollywood heartthrob, caused a great shock to even Joseon movie fans. In 1926, Hollywood movies accounted for 90% of the films aired in Joseon movie theaters such as the Dansungsa, Woomigwan and Joseon Theater, and each newspaper allocated a column that dealt with movies and was plastered with Hollywood news.

Movie Censor System is Completed
Also in 1926, the movie censor system of the Japanese Government-General was finalized. The unified censorship of movies was implemented nationwide by the Japanese Government-General according to the rules of motion picture censorship announced and implemented in July, and inspection fees of 5 jeon were charged for every 3 meters. Joseon and Japanese movie theater owners, film importers and film-related businessmen operating in Joseon all opposed this regulation and collectively defied this measure in vain by resolving to close all cinemas at once. Thus, this rule placed a huge burden on the Joseon film industry.

Contains Film Advertisements
The series Joseon Films in Newspaper Articles differs from other books in that the book completely includes the content of movie advertisements of the time. The production, import movie staff and screen information, admission fees, film replacement cycle, distribution status, etc. that couldn't be dealt with in newspaper articles was published in the advertisements. In a situation where there isn't much information on early movies, the advertisements serve as the most important basic resource.

Writer/Researcher
- Research planning and leading: Jo Jun-hyeong (department manager, Korean Film History Institute of the Korean Film Archive)
- Co-researchers: Choi Eun-suk (visiting scholar, Korean Film Archive), Jo Oe-suk (visiting scholar, Korean Film Archive)