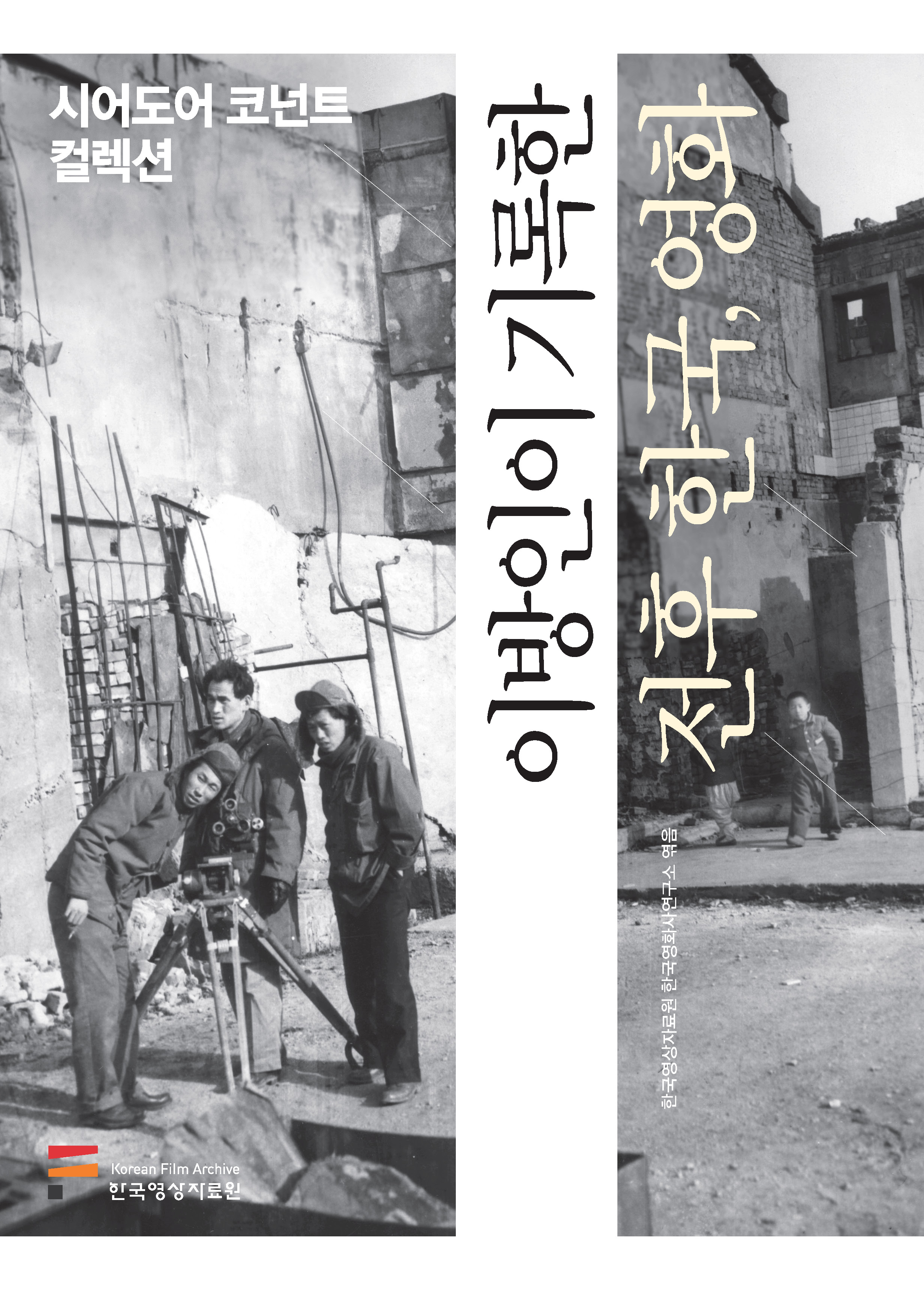 etc
Records of Post-War Korea and its Films by a Foreigner: Theodore Conant Collection
2015 l Korean Film Archive
Theodore Conant first came to Korea as a member of the UNKRA movie team in 1952 and stayed for approximately 8 years, until 1960. During his stay, he recorded Korea during the war and the post-war period and interacted with Korean movie makers, and as such he made many contributions to the Korean movie industry. This volume is a compilation of books introduced by the Korean Film Archive that has organized materials donated by Theodore Conant with individual comments added. The book classifies "Theodore Conant Collection" into three large categories of documents, photos and films, and contains comments on each to help the understanding of readers.

From the document collection, those that required special attention were translated into Korean, and it contains a list of the whole collection. With this collection, readers can understand the purpose of aid for Korean movies from the United States, and also the situation of the Korean movie industry during the period.

The photo collection includes steel cuts of movies that Conant worked on together with photos of movie director Lee Hyeong-pyo, shooting photographer Lim Byeong-ho, images of Panmunjeom (an area on the Military Demarcation Line (MDL) where democratic South Korea and communist North stand face to face, technically at war) in 1952-1953 and various aspects of Korean society, the New Life Training Center where he was a member in the mid-to-late 1950s, and the movie department of the press office. There is also a photo of Conant's wedding in the Seoul Mayor's Office in 1957 with attendees Mayor Go Jae Bong and Walter Dowling, the U.S. ambassador to Korea, as such novelty photos are included in the collection.

Lastly, the film collection contains various films (supported by the Academy of Korean Studies) that were copied and collected by the Korean Film Archive and the Center for Korean History of Korea University, and a total of 73 films and details on them are contained together with comments. This collection is composed of newsreels from various sources other than pieces that were directed or produced by Conant. As mentioned in the comments, most of the newsreels collected were reedited by Conant for a special purpose, and it is significant material to view Korean society in the 1950s from a stranger's point of view.

Another part that attracts attention along with introduction to the collection is a 9-hour oral interview with Conant at his house in in the U.S. state of New Hampshire conducted by the Korean Film Archive in November 2009. This oral statement explains in detail the U.S. subsidies to reconstruct Korea and also Korean activities in the 1950s, together with his personal opinion about Korean society and Korean movies. Explanations are added to enhance understanding of the interview and also annotations that correct any errors in the oral statement through historical research, which enhance its informational value.

Due to a lack of remaining materials, there are still many aspects of Korean movie history during the 1950s that require explanation. As such, any kind of material, even if it is a faded photograph, is valuable if it is related to the movie history of that time. This book, which introduces materials collected directly and indirectly by Theodore Conant over a period of eight years, will provide an opportunity to expand understanding of Korean movie history, and going forward, to expand the research horizon of Korean society and popular culture.
Writer/Researcher
Kim Hui-yun | Guest Researcher, Korean Film Archive, completed Ph.D at UCLA
Park Seon-yeong | Research Professor, Center for Korean History, Korea University
Lee Gil-seong | Guest Researcher, Korean Film Archive, Lecturer at Chung-Ang University
Lee Ji-yun | Researcher, Institute of Korean Film History, Korean Film Archive