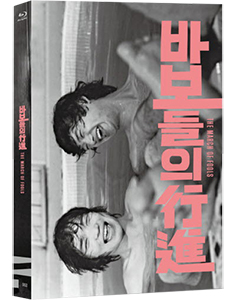 Blu-ray Collection
The March of Fools
Director: Ha Gil-jong
Year : 2014
These are the first titles of the Blu-ray Collection released by the Korean Film Archive (KOFA) along with The Housemaid. Adapted from Choi In ho's novel The March of Fools. This movie exquisitely mixes director Ha Gil-jong's unique cinematic experiments with commercial viability, and was a box-office hit that created a sensation in Korean society among critics and the public. Thanks to the film, Ha eventually acquired a legendary status among the leading directors. With the background of oppressive Korean society in the mid-1970s, the film's plot revolves around the bonds of common university students Byeong-tae, Yeong-cheol and Yeong-ja, and angst about school, friendship, sadness and failure. This movie left a strong impression on the public of that time, and also leaves one on modern viewers. This film was deemed as one of the best Korean films of all time in a 2013 KOFA poll of the top 100 Korean films, featuring in a three-way tie for first place with The Aimless Bullet (1961) and The Housemaid (1960).

The March of Fools underwent severe censoring during its production and release. The Blu-ray supplement version features the censor's document that recorded the process in full, a clip that has put together the excised footage and a booklet of commentary by Jeong Jong-hwa, the team head of collection of KOFA, on this censorship. The version will become an important resource not only to better understand the film but also to understand the history of Korean film censorship.

Another unique feature of this release is that two track audio commentaries are included. The audio commentary by Korea's representative film critic Jung Sung-il will serve as the best guidance to understand the significance of this movie to film history, and to understand the film philosophy of director Ha Gil-jong. Also, an English commentary by Darcy Paquet for overseas viewers that may not sufficiently understand Korean films is provided. Furthermore, the release features a still photo gallery, and the booklet includes a commentary by Jeong Jong-hwa as well as an introduction by Jo Jun-hyeong, the department manager of the Korean Film Archive, on director Ha, and introduction by movie critic Kim Young-jin on the film.

Details
Subtitles : Korean, English, French, Japanese
Video: 2.35:1 Anamorphic Widescreen
Audio: Korean DTS-HD MA Mono

Special Features
- Audio Commentary (Sub: Korean, English): Jung Sung-ill (Film Critic, commentary in Korean), Darcy Paquet (Film Critic, commentary in English)
- The Sequence of As Days Go By From The Original Negative (3 Min.)
- Censored Clips (min)
- Image Gallery(stills, documents on the censorship, censored screenplay)

Booklet (Korean, English)
- "Ha Gil-jong's Life and Movie" (Jo Jun-hyeong)
- "Underprivileged of the Era Captured Straight Through" (Kim Young-jin)
- "Censorship, or Ways to Enjoy the Movie The March of Fools" (Jeong Jong-hwa)