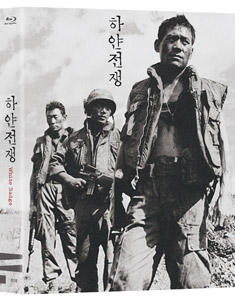 Blu-ray Collection
White Badge (1992)
Director: Chung Ji-young
Year : 2019
A story of broken veterans who had horrific experiences in the Vietnam War, a war without justification, White Badge reverses existing perceptions of this conflict, seen in Korea up to that point as a noble contribution and sacrifice for another country's freedom. While this may be an accepted notion today to a degree, when White Badge was first released, this concept was considered a rare and controversial issue that had a serious impact. However, White Badge does not impose this message hastily. Director Chung Ji-young focused more on prudently illustrating the desolate lives of two war veterans suffering the aftereffects of war rather than directly depicting the conflict, and he contrasted faraway Vietnam with Korean society of 1979 and 1980 which they also experienced. As a result, the effect of the message, somewhat ironically, was reinforced. Through this setting, this film provides not only a mere historical criticism on the Vietnam War but also an opportunity to contemplate Korean society of that time. Furthermore, through following these war veterans' tragic paths, this film moves forward to a point of denouncing the violence and sadistic nature of war itself. Besides, with the addition of stunning visuals from the late cinematographer Yoo Young-kil, this film is rightly considered a masterpiece representing the 1990s and holds a deserved place in Korean cinema history.

This Blu-ray includes a commentary by director Chung Ji-young, actor Ahn Sung-ki, and Ju Seong-cheol, editor-in-chief of CINE21, adding extra value. Ju Sung-chul, host of the commentary, draws out some memories from both the director and lead actor with his detailed research into newspapers of the time, articles, discourses, etc., and director Chung and actor Ahn reveal a wealth of behind-the-scenes stories concerning the planning and production of the film. For instance, we learn that White Badge was the first film by non-Vietnamese filmmaker shot in Vietnam after the end of the War. Also, it was Ahn Sung-ki who not only suggested that director Chung Ji-young should take on this project, but also came up with the idea for the last scene. In addition to this, there are detailed stories about the locations both at home and abroad; all this information is much needed to get a full grasp of the film. Besides, by hearing director Chung's direct explanation of his intentions for the main scenes, viewers will get a real insight into the meaning of White Badge. Also a booklet containing an account of director Chung Ji-young's cinematic world and his works, written by Jang Byeong-Won, programmer at Jeonju International Film Festival, which has further significance.

White Badge was reborn through restoration by the Korean Film Archive in 2016. The archive has restored image quality and sound from a dupe negative film collected in 1994 as the original source. As a result, we have achieved quite satisfactory digital images in 4K HD. Although White Badge has been released on DVD before, these Blu-ray images restored in high definition will offer a chance to revise earlier perceptions the film. However, the restoration of the sound was unfortunately limited by the quality of original source during production. The restoration of both image and sound was overseen by director Chung Ji-young himself.
Details
Subtitles: Korean, English, Japanese
Frame: 1080P FULL HD 16:9
Audio: Korean DTS HD MA 3.1
Rating: Aged 15 or over
Running Time: 125 min.

Special Features
- Commentary: Chung Ji-young(Film Director), Ahn Sung-ki(Actor), Ju Sung-chul(Editor in Chief of Cine21)
- Digital Restoration: Before & After
- Trailer
- Image Gallery

Booklet
- "White Badge, A Beautiful Cinematic Rhetoric Bridging Heterogeneous Time and Space", Jang Byeong-won(Programmer at Jeonju International Film Festival)