"I am eager to see that our women in Korean filmmaking are going to produce better works and advance to the globe. This is why I would like to live even only one day more."
Park Nam-ok

Two great leaders in the film world of South Korea passed away. Park Nam-ok in L.A., USA on Apr. 2017, as well as Choi Eun-hee in Seoul, South Korea on Apr. 2018 were no longer with us. Park Nam-ok who was eager to witness that women in Korean Filmmaking push into the globe was the first female director in South Korea, as well as Choi Eun-hee who lived real life like a movie departed this life on the earth.

Just after Korean war when the conditions of the film industry were very poor, Park Nam-ok carrying her baby on her back with a blanket and facing troubles of raising fund, shooting, editing, recording on her own had completed the film. Likewise she became a pioneer with the film A Widow (1955) featured a story of a Korean War widow. After that Hong Eun-won who was a female of versatile talents and paid by attention as a scenario writer published A Lady Judge (1962), moreover Choi Eun-hee who was a popular actress by courtesy of her classical form of Korean female directed the film A Girl Who Is Brought up by the Family of the Husband-to-Be (1965) so as to become the third female director in the film world.

Unlike Park Nam-ok, Hong Eun-won, Choi Eun-hee who communicated to each other, Hwang hye-mi who became the fourth female director had burst onto. Graduated from the dept. of French literary and attracted by novels written by Kim Seung-ok, Hwang planned and cinematized his novel Travel on Mujin City for a movie and surprised movie critics by producing the film It Is the First Time Ever (1970) which were sensitive and experimental thanks to influence of European films.

Notwithstanding for 14 years afterward, a next female director barely debuted who was 27 years old, Lee Mi-rye. She received tuition of motion pictures upon Yu hyun-mok and finally arrived at commercial success by courtesy of directing My Daughter Rescued from the Swamp (1984). Moreover Lim Soon-rye who made her debut with Three Friends (1996) the full-length film is in full play with Little Forest (2018) and has kept on treating those who were out to competitive society's paradigm and has introduced works which have both popularity and cinematic quality.

This exhibition is intended to focus on female directors in the film world of South Korea, who has been treated too lightly so far but has been the most important chapter in the film history of South Korea so as to cause to take a good look on their will power and struggle toward films. In an attempt to regard those who had enamored of cinema and art, it is not easy to investigate their great zest for film throughout their lives. That was excessively hard time so that they remained tough throughout their lives resulting in things which had no choice but giving up. Notwithstanding they continued filmmaking and lives through it. Indeed it was 'Keeping the Vision Alive'.
Exhibition Guide
The exhibition is comprised of the special exhibition hall, divided into 6 sections, as well as a little theater in the museum.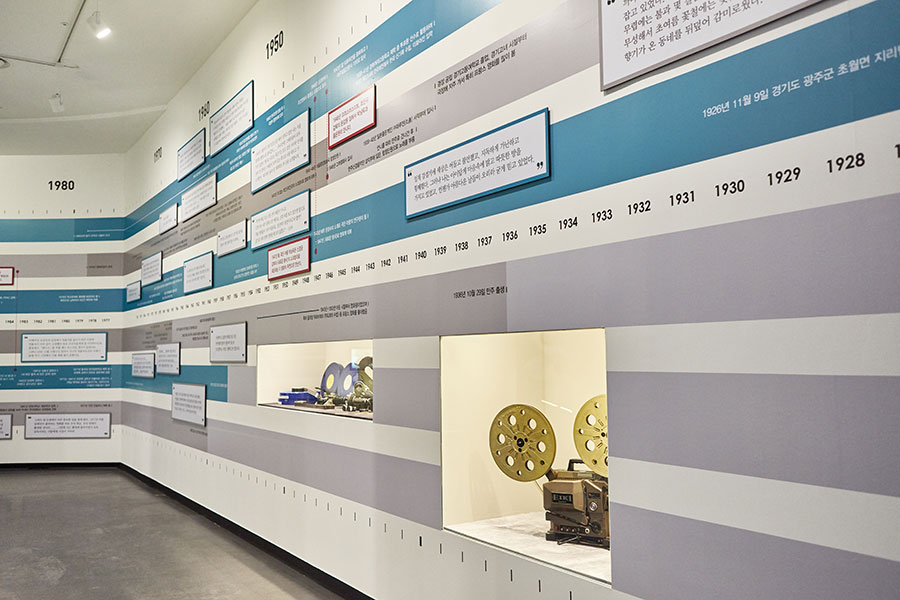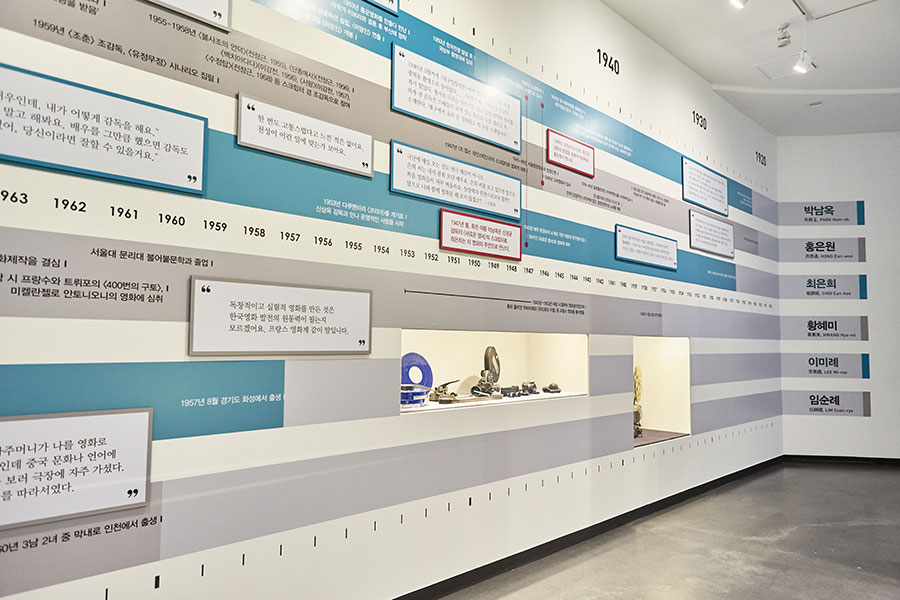 1. Timeline of the 6 Directors
The dramatic lives of the 6 directors, Park Nam-ok, Hong Eun-won, Choi Eun-hee, Hwang hye-mi, Lee Mi-rye, Lim Soon-rye are displayed in chronological order. Junction points of those who have lived at around the same time are marked in red.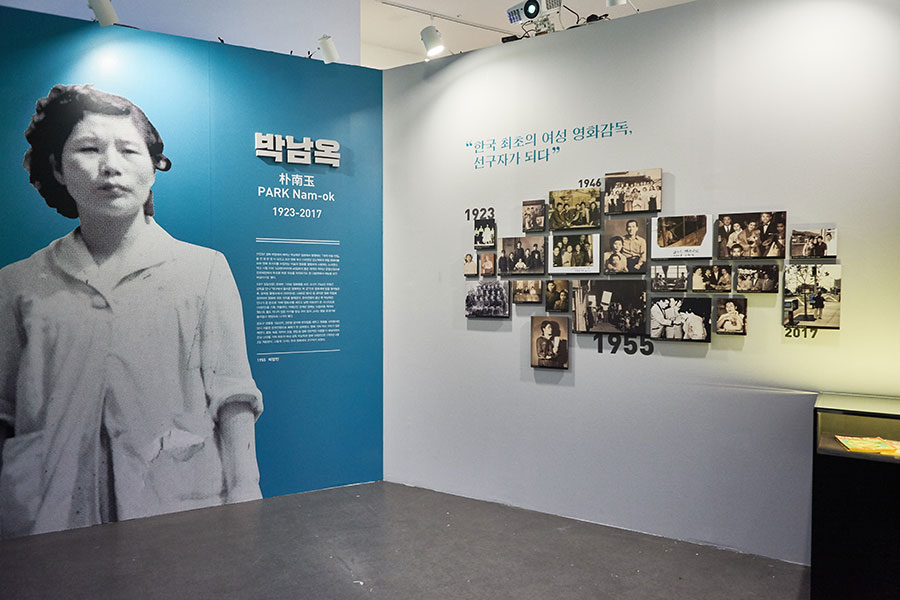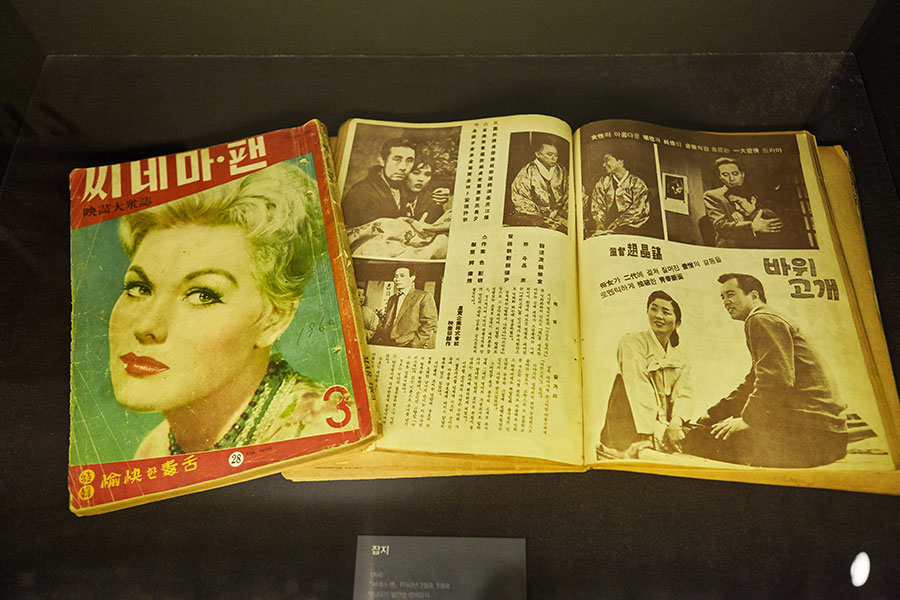 2. Spaces for the 6 Directors
These spaces are made up of personal photography, images from film sets, videos, scripts, relics, and individual collections so that visitors can feel their passion and love of art.

Park Nam-ok's A Widow, items from Park's personal collection, and 1960 March and May issues of Cinema Fan which she published are now on display.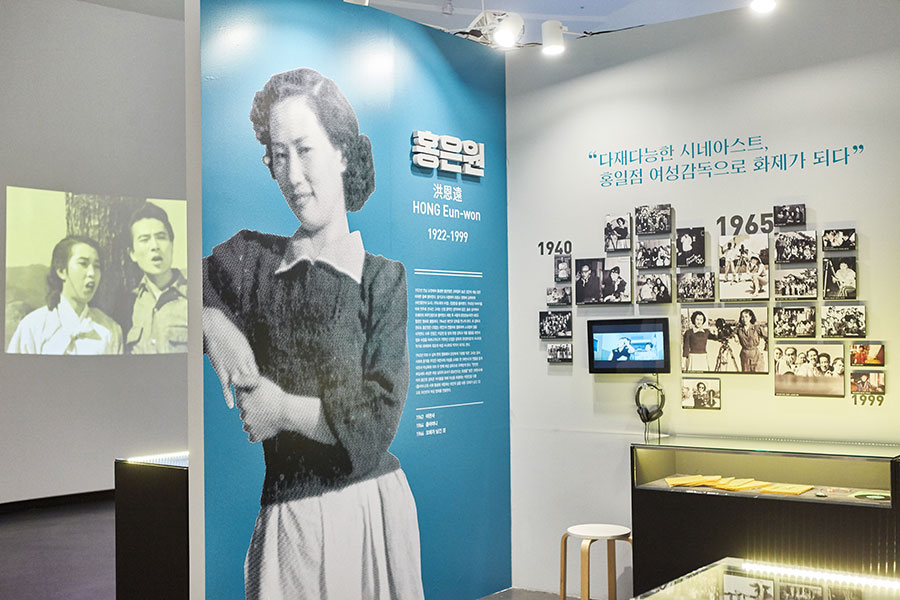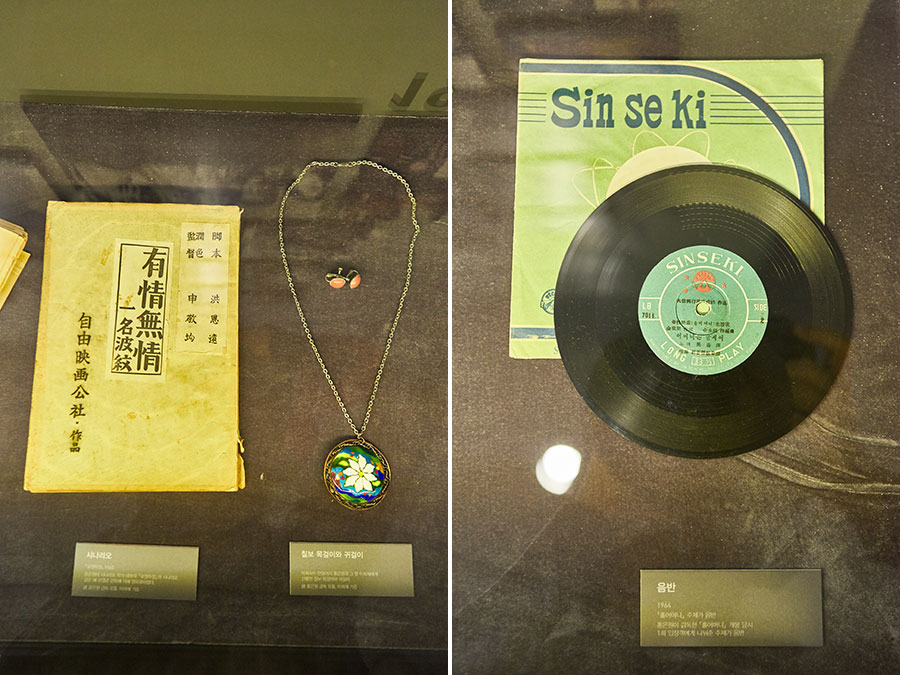 Jewelry hand-made by actress Bok He-suk as a gift for Hong Eun-won and the script of Lovers in Refugee handwritten by Hong are on display, and a documentary of Hong produced by the Korean Film Archive can be seen.
Jewelry accessories worn by Choi Eun-hee on the set of Tyrant (aka Goddess of Mercy) and make-up kits she used in life are on display, and select scenes and behind-the-scenes footage of A Girl Brought by a Family of Husband-to-Be and One-sided Love of Princess can be seen.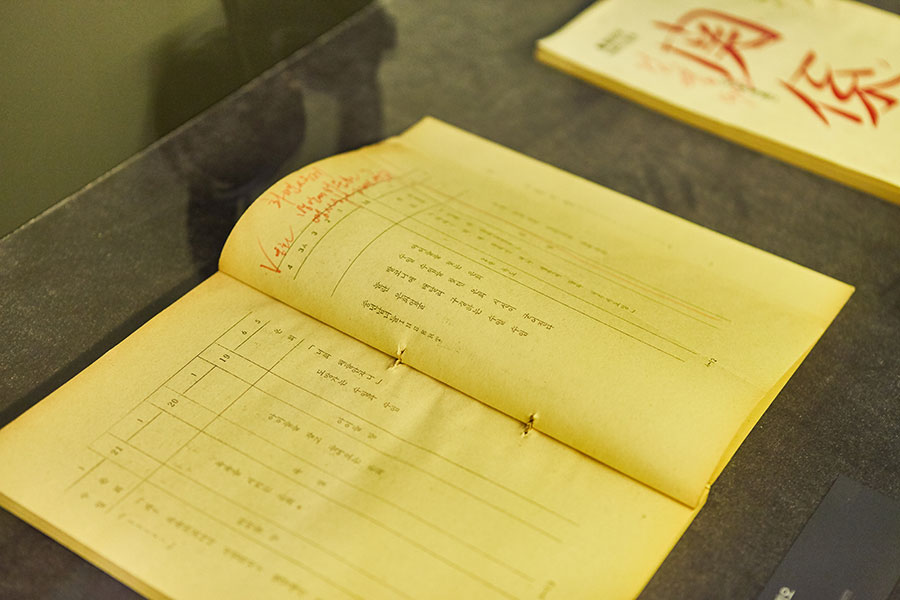 Interviews shot in 2001 for the documentary Keeping the Vision Alive (Lim Soon-rye) that provide a glimpse into the development of Mist and the directing of First Experience can be seen.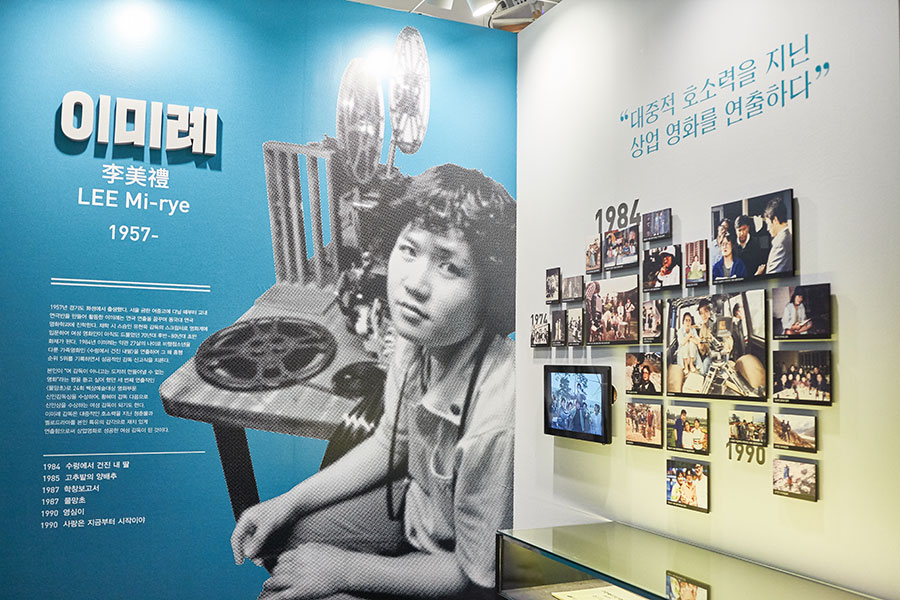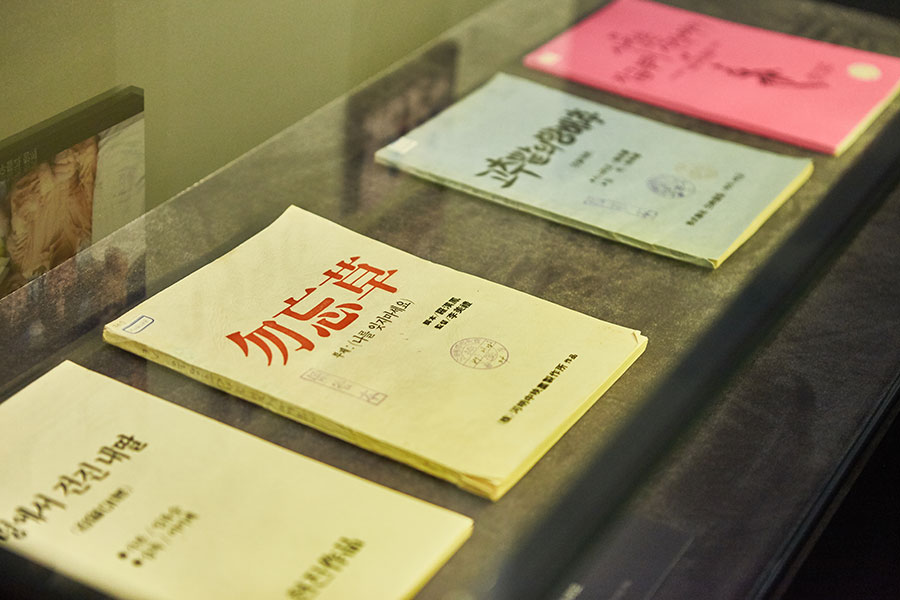 Select scenes from Lee Mi-rye's films can be seen.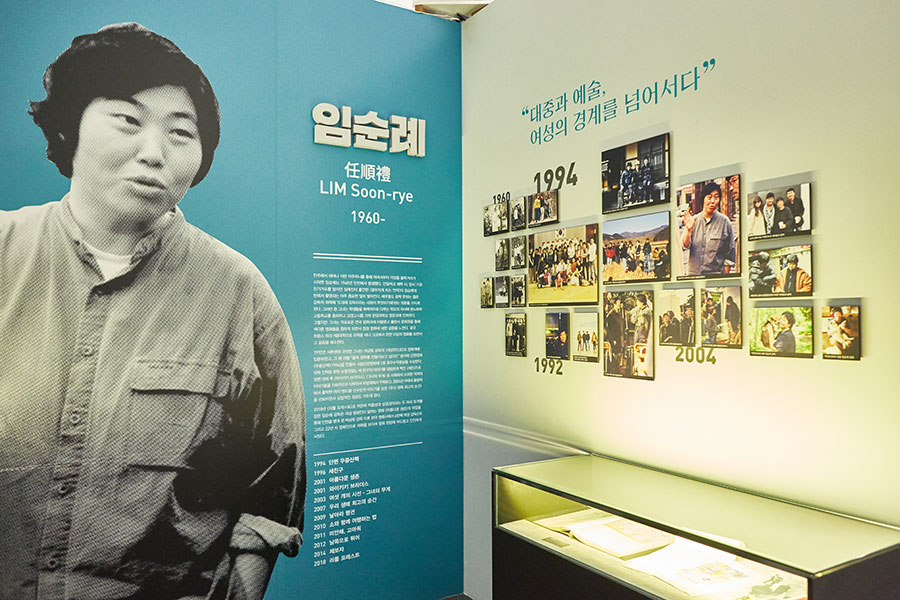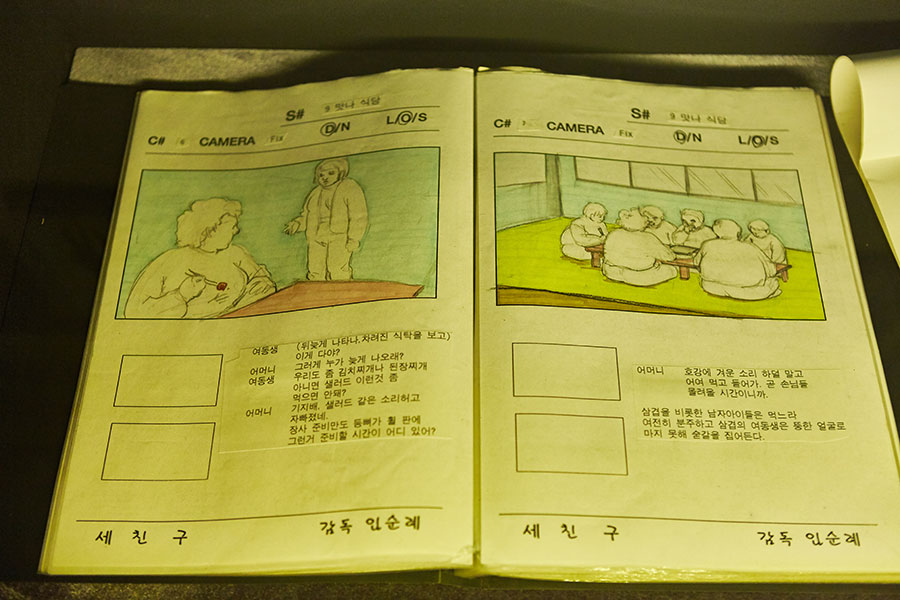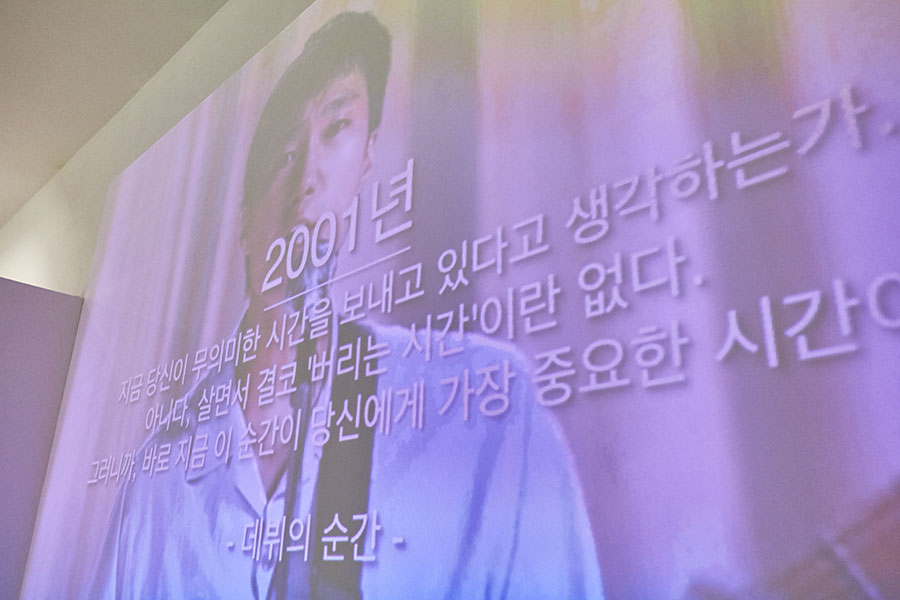 Three letters sent to Lim soon-rye by Park Nam-ok and the storyboard for Three Friends are on display, and select scenes from Lim's films can be seen.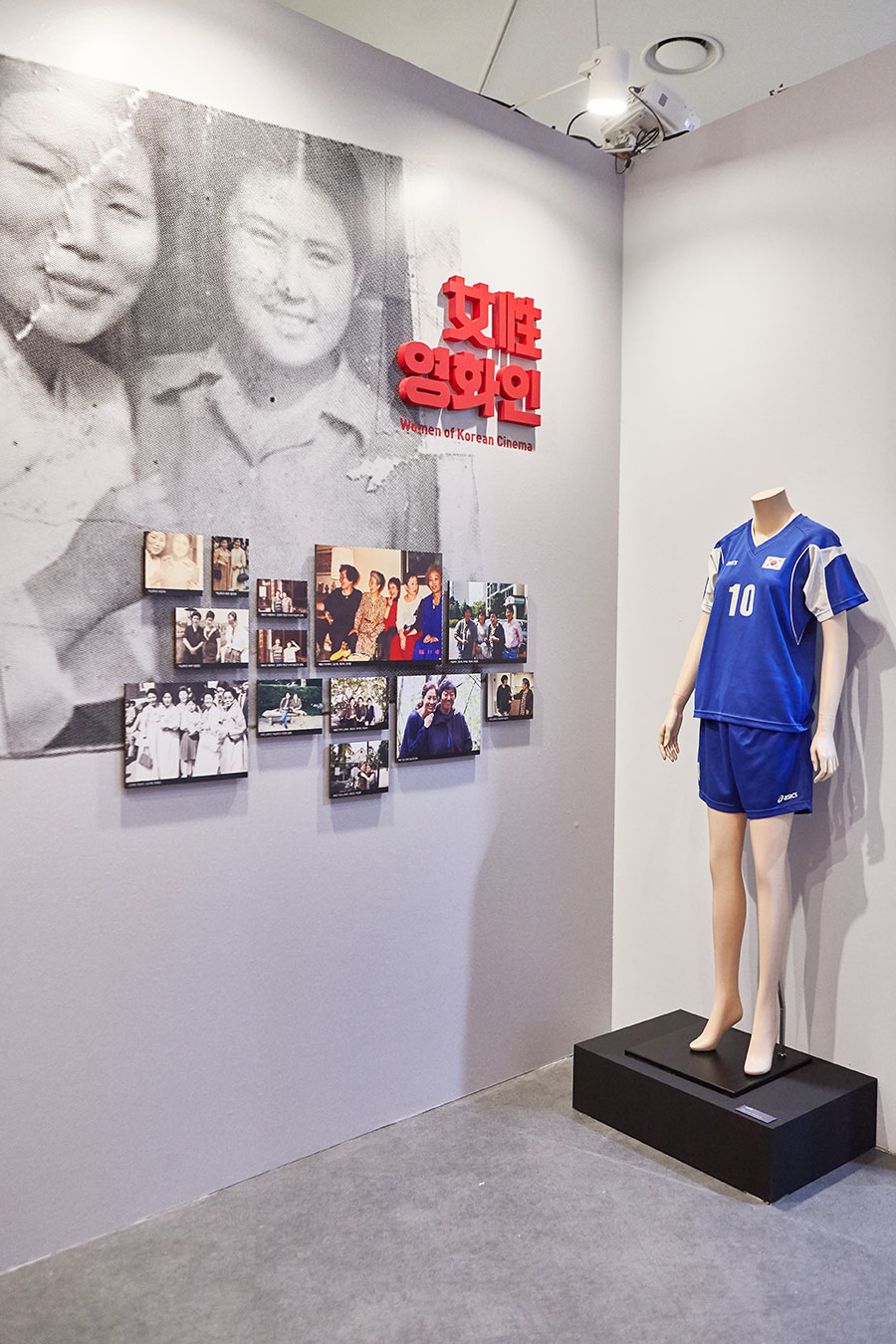 3. Women in Korean Cinema
Women in Korean cinema who have taken up different roles including directing, editing and acting can be seen through photographs, and wardrobe from Forever the Moment donated by actress Mun So-ri is on display.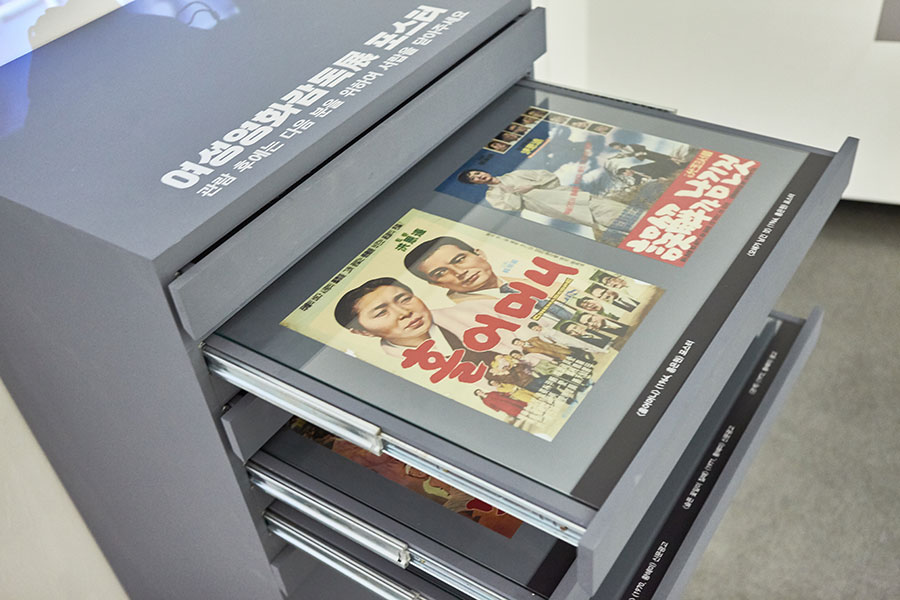 4. Posters Archive
Posters and newspapers advertisements featuring the works of the 6 directors can be seen.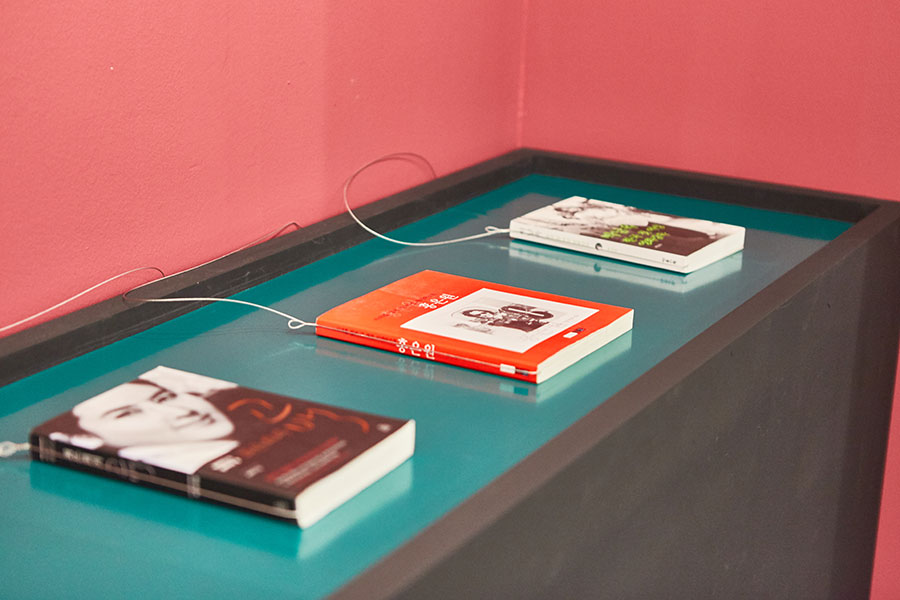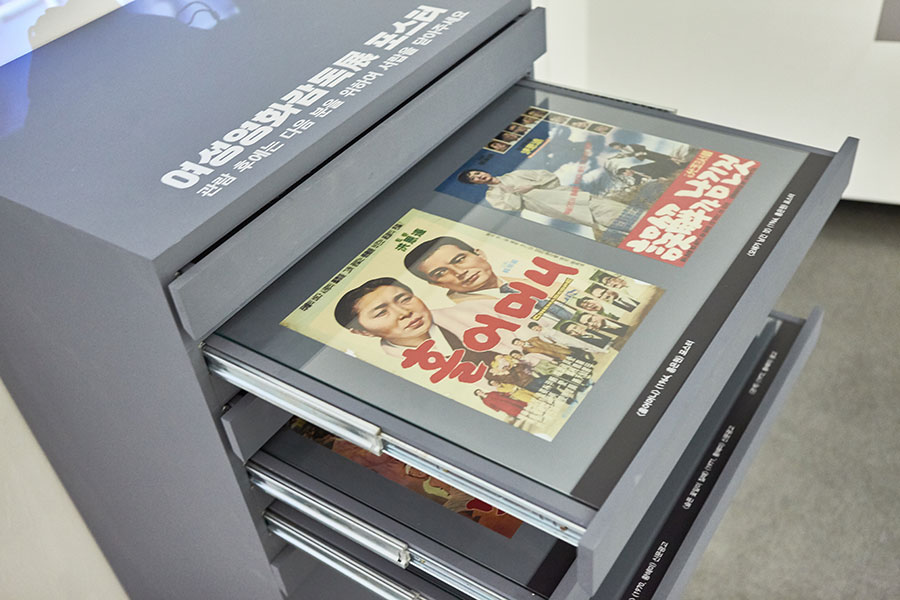 5. Visotor's Room
A space with related books, stills, and clippings, as well as an area for visitors to leave a note.

6. The Little Theater
For the duration of the exhibition, A Widow, A Lady Judge, and Keeping the Vision Alive will be screened.
"The first female director in the history of Korean cinema, becoming a pioneer"
PARK Nam-ok
1923~2017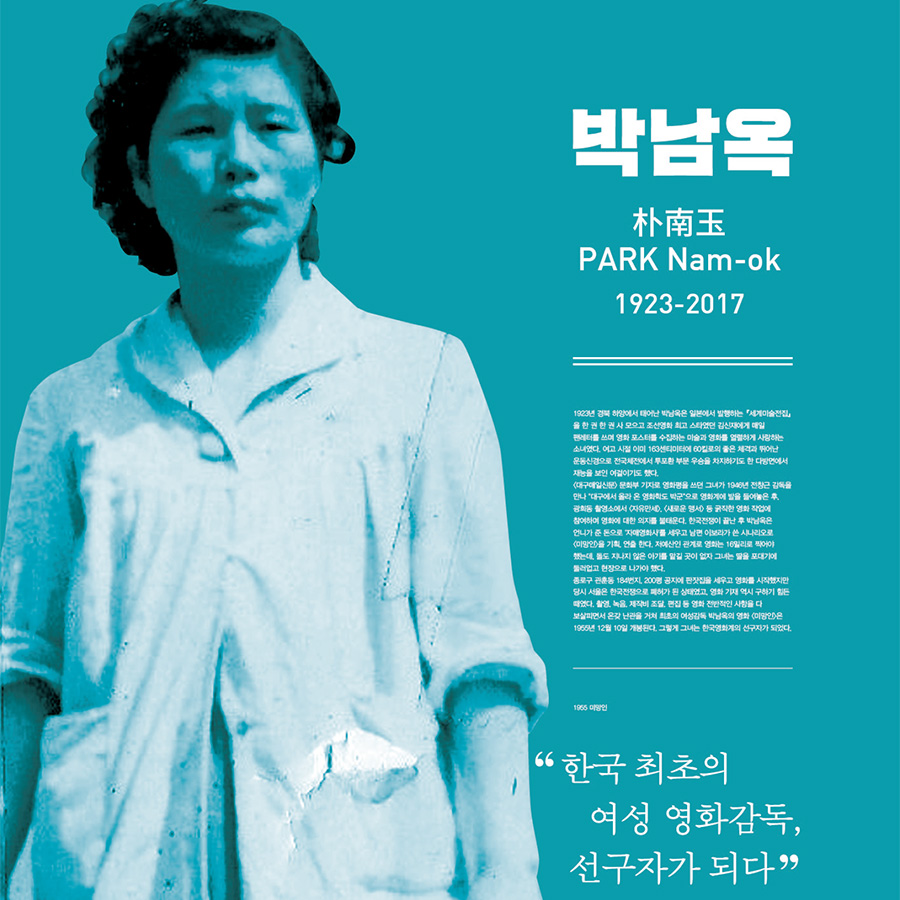 Born at Hayang of Kyungsangnam province in 1923, Park Nam-ok was a girl who showed an enthusiastic response to cinema and art, for example by collecting one by one The Complete Series of World Arts published in Japan and sending fan letters to Kim Sin-jae, the top star of Korean movies at the time. With the fine physique of 163cm height and 60kg weight already in her high school days, she received the top award in short put at the national sports festival and was a heroine of versatile talents.

She had written film reviews as a reporter in the Department of Culture at The Daily News of Daegu and in 1946, joined director Jeon Chang-keun on account of which she first stepped into the film world as "Ms. Park, a film student from Daegu city." Afterwards, she participated in major works of filmmaking such as Viva! Freedom and A New Oath at the film lot of Kywanghee-dong and so she found a strong will for filmmaking. Following the Korean War, she founded 'Sister Productions' based on funds provided by her elder sister and directed A Widow based on a script written by Lee Bo-ra, her husband.

On account of a shoestring budget, the film had to be shot on 16mm film, and with no one taking care of her less-than-year-old baby, Park would enter the film lot carrying her daughter on her back wrapped in a blanket. She began filming, constructing a rickety hut at an empty lot of 655 square meters at 184 kwanhun-dong Jongro-gu, but Seoul at the time was in ruins by the Korean War so it was difficult to get any material for filmmaking. Overseeing all aspects of production, including shooting, recording, raising funds, and editing, she surmounted all adversities so that A Widow, the first Korean film from a female director could be released on April 2nd, 1955. This is how she became a pioneer in Korean filmmaking.

Filmography
A WIDOW (1955)
"The cinéaste of versatile talents, becoming an attractive subject for conversation as the only female director"
HONG Eun-won
1922~1999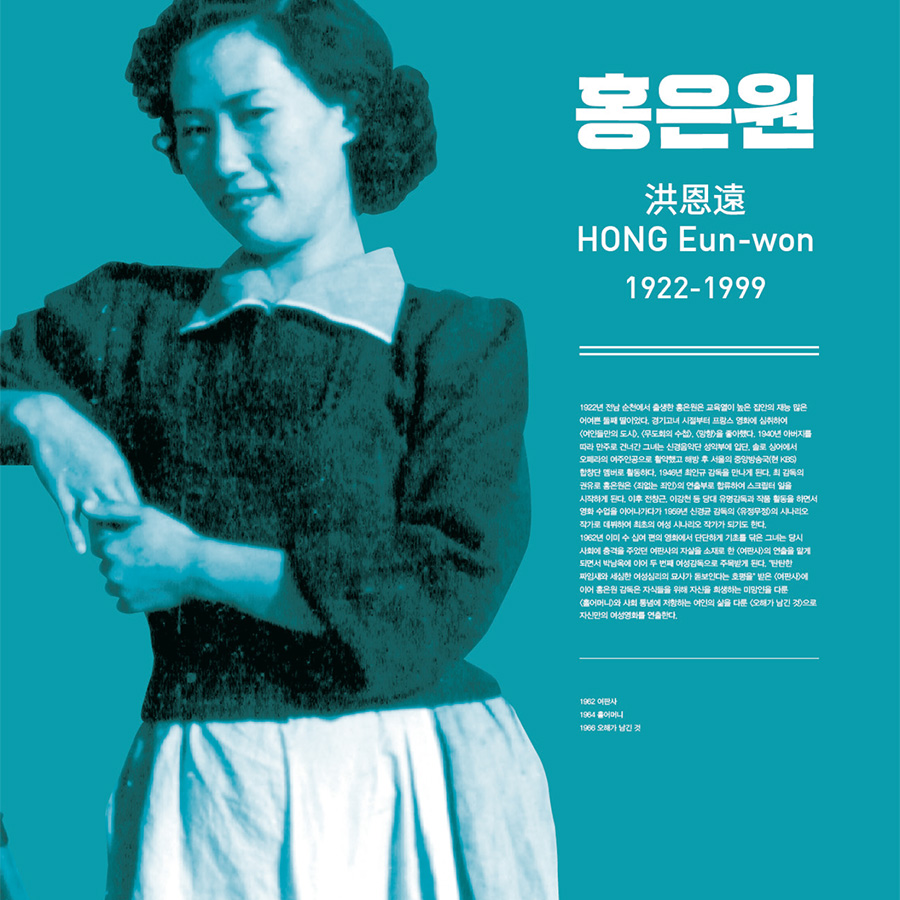 Born in Sooncheon of Jeonranam province in 1922, she was the second daughter in an education-conscious family. From those days of Kyeonggi Girl's High School, she had been fascinated with French films, such as Un Carnet De Bal and Pepe Le Moko.

Crossing into Manchuria with her father in 1940, she joined the vocalists' section of the Sinkyeong Choir and was active as a solo singer and playing the heroine of opera. After the liberation of Korea, she worked as a member of Seoul's Central Broadcasting (currently KBS)'s choir. In 1946, persuaded by Choe In-kyu, she joined up with the directing department of An Innocent Criminal and began her film career as a script supervisor.

Afterwards, she kept on receiving film education through working alongside famous contemporary directors like Jeon Chang-keun and Lee Kang-cheon. She then debuted as a screenwriter of The Sympathy and the Heartless directed by Sin Kyeong-kyun in 1959 and became the first female screenwriter in Korea.

Having laid her foundation via a number of films, she directed A Lady Judge in 1962, taking on the shocking subject of the suicide of a lady judge and she was highlighted as the second female director following Park Nam-ok. The film was highly acclaimed for both its well knit plot and its portrayal of the delicate psychology of women. She subsequently directed female films on her own terms, such as A Single Mother, which dealt with a widow sacrificing for her children and What Misunderstanding Left Behind, which dealt with a woman resisting the conventional wisdoms of society.

Filmography
A LADY JUDGE (1962)
A SINGLE MOTHER (1964)
WHAT MISUNDERSTANDING LEFT BEHIND (1966)
"A star undertaking the charge of direction - a popular actress becoming a director"
CHOI Eun-hee
1926~2018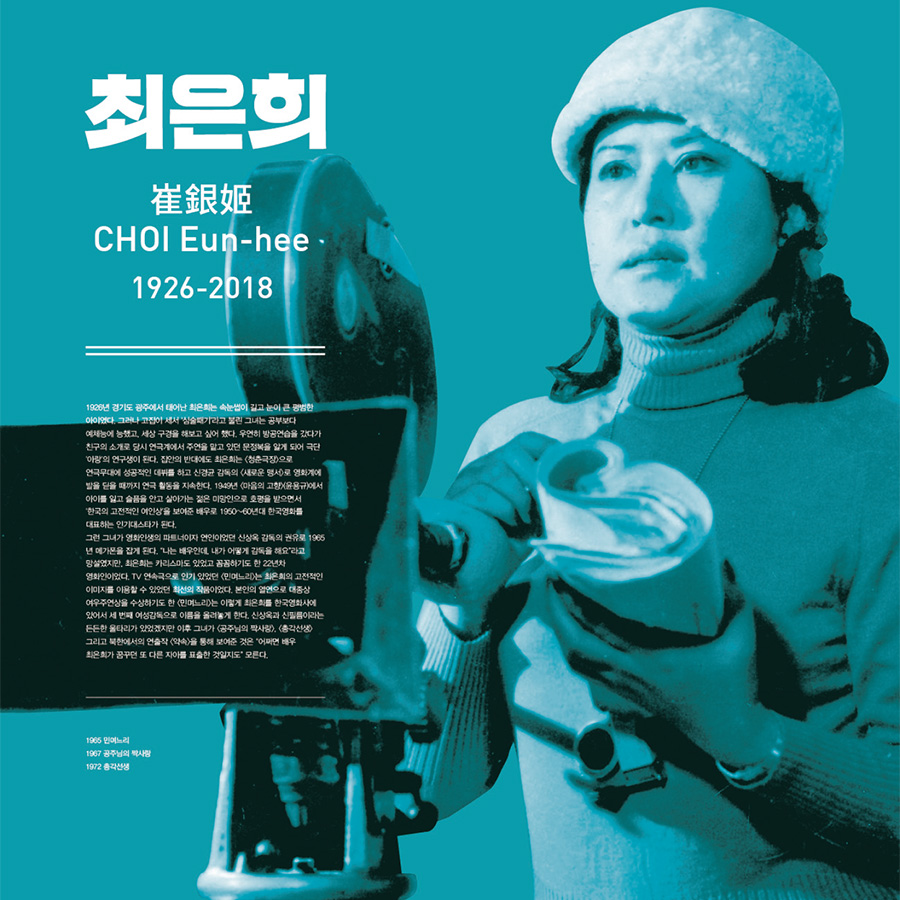 Born in Kwangju of Kyeonggi province in 1926, Choi Eun-hee was just an ordinary child born with big eyes and long eyelashes. However, she was so stubborn as to be called 'an ill-natured child', was skillful in physical education and art classes rather than scholarly activity, and was eager to see the world. While participating in an air-raid drill, she was introduced by her friend to theater actor Mun Jeong-bok and became a research student of the theatrical troupe 'Alang.'

Despite opposition from her family, she debuted successfully on stage with A Youth Theater and continued performing in theater until her entrance into the film world with A New Oath by director Shin Kyung-kyun. Her role as a young widow who was forced to live with the sorrowful loss of her baby in the 1949 film, A Hometown in Heart (Yoon Young-kyu) , she become a huge star representing Korean cinema in the 1950~60s as a heroine reflecting the classical image of the Korean woman.

Persuaded by Shin Sang-ok who was her professional partner as well as husband throughout her film career, she undertook the charge of a director in 1965. She was initially hesitant, saying "I am an actress, how could I direct?"Nevertheless, she was a charismatic and meticulous woman with 22 years of experience in the industry. The film adaptation of the popular TV series The Girl Raised as a Future Daughter-in-Law was the best work that suited her classical image. Furthermore, the film made her the third female director in the history of Korean cinema, and led her to win the Grand Bell Award for Best Actress.

Despite being strongly supported by Shin Sang-ok and his production company Shin Film as an actress, what she may have revealed via One-sided Love of Princess, An Unmarried Teacher, and the North Korean film Pledge may be an expression of the alter ego she dreamed to be.

Filmography
THE GIRL RAISED AS A FUTURE DAUGHTER-IN-LAW (1965)
ONE-SIDED LOVE OF PRINCESS (1967)
AN UNMARRIED TEACHER (1972)
"Experimenting with intellectual and sensitive films"
HWANG Hye-mi
1936~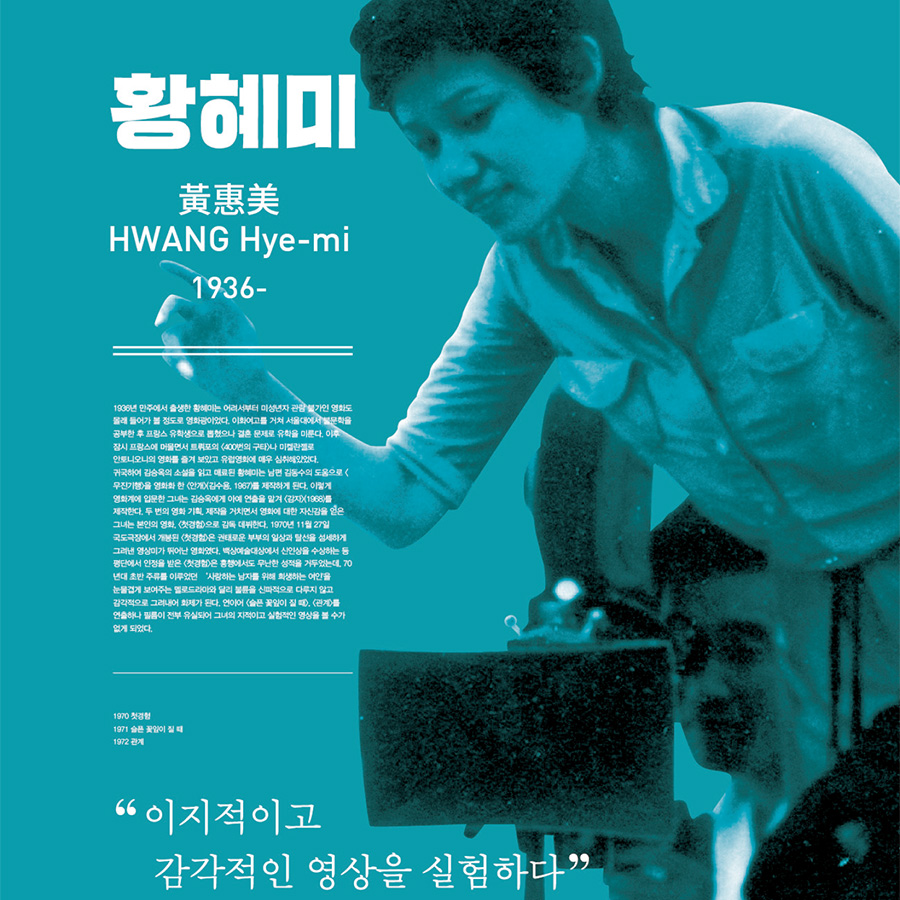 Born in Manchuria in 1936, Hwang Hye-mi was a film buff, sneaking into movies that minors were not allowed to watch from a young age. After graduating Ehwa Girl's High School and studying French literature at Seoul National University, she was selected to study abroad in France but she postponed it for marriage. While temporarily in France, she became absorbed in European cinema and was captivated by Francois Truffaut's Les 400 Coups and Michelangelo Antonioni's films. Returning from abroad, she discovered and was impressed with a novel by Kim Seong-ok. So with the aid of her husband Kim Dong-su, she produced Mist (Kim Su-young, 1967), which adapted the Kim Seong-ok novel A Journey to Mujin.

Having entered the film industry this way, she handed directorial reigns to Kim Seung-ok for the next film she produced, Potato (1968). Through this experience, she gain confidence in filmmaking and finally debuted as a director with her film, First Experience. The film released on November 27, 1970 at Kukdo Cinema delicately portrayed the daily lives and tribulations of a bored husband and wife with beautiful imagery.

As gaining critical acceptance and winning the Best New Artist award at the PaekSang Arts Awards, First Experience also performed satisfactorily at the box office. Unlike typical tearful melodramas featuring 'a woman sacrificing herself for a man', the film portrayed an infidelity sensuously without over-dramatizing it. She continued to direct, When Flowers Sadly Fade Away and Relationship but unfortunately all her films were lost and so her intelligent and experimental works can no longer be seen.

Filmography
FIRST EXPERIENCE (1970)
WHEN FLOWERS SADLY FADE AWAY (1971)
RELATIONSHIP (1972)
"Directing commercial films with public appeal"
LEE Mi-rye
1957~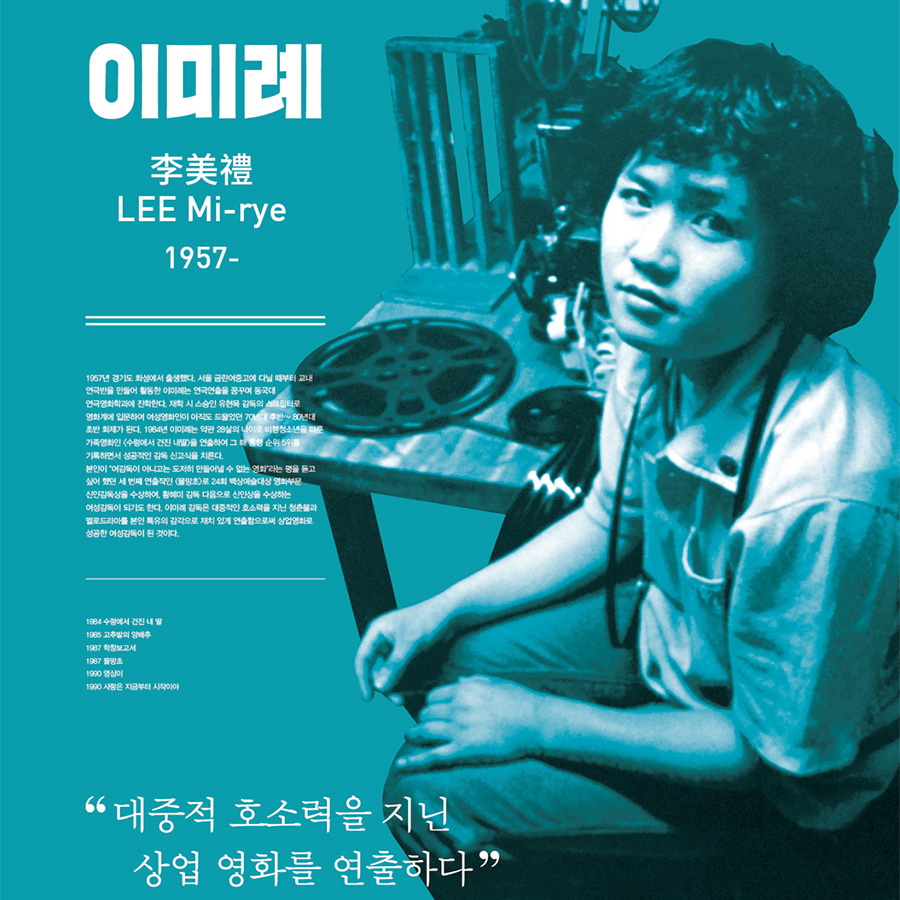 Lee Mi-rye was born at Hwaseong of Kyunggi province in 1957. She formed and was active in a drama club while attending the Seoul Keumlan Girl's Middle and High School. Then in her pursuit to direct plays, she entered the Department of Drama and Cinema at Dongguk University. While there, she entered the film industry as a script supervisor for director Yu Hyeon-mok, which became a hot topic of conversation in the late 70s and early 80s when women in Korean cinema was rare.

In 1984 at the young age of 27, she debuted as a director with the film, My Daughter Rescued from the Swamp, which was a family film dealing with juvenile delinquents and the fifth highest grossing film at the box office that year.

With her third film Forget-me-nots, she hoped to make "a film which could only be made by a female director" and she was honored with the New Director Award at the PaekSang Arts Awards, following Hwang Hye-mi as the second female director to receive that award. Ultimately, Lee became a woman director who succeeded by imbuing her unique sensibilities to youth films and melodramas with mass commercial appeal.

필모그래피
MY DAUGHTER RESCUED FROM THE SWAMP (1984)
CABBAGE IN A PEPPER FIELD (1985)
SCHOOL DAYS (1987)
FORGET-ME-NOTS (1987)
YOUNG-SHIM (1990)
IS THE BEGINNING OF LOVE (1990)
"Going beyond the boundaries of publicity, art and womanhood."
LIM Soon-rye
1960~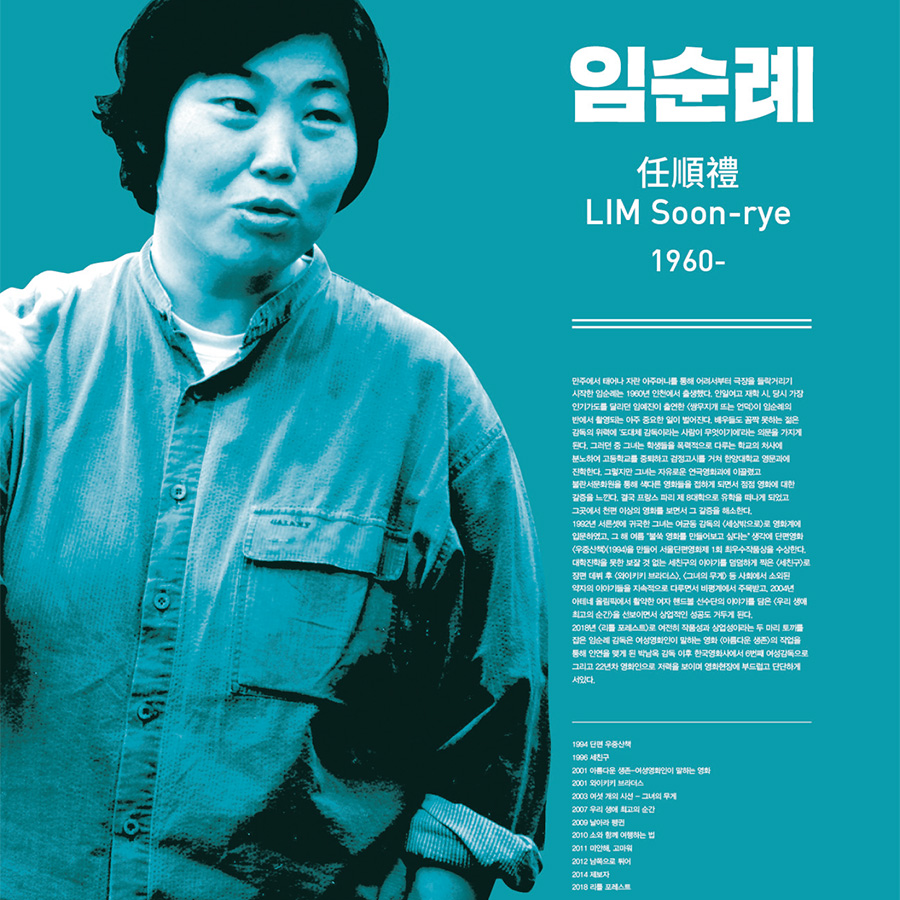 Lim Soon-rye was born in Incheon in 1960. As early as childhood, she was able to pass in and out of movie theaters thanks to an aunt from Manchuria. She experienced a pivotal moment in her life while attending Inil Girl's High School when a film starring the popular actress Lim Ye-jin, The Double Rainbow Hill, was shot in her class. Watching actors and actresses submit to a young director, she began asking herself "What on earth are directors?" While attending university, she became more and more thirsty for movies while encountering unconventional films at the Institut Francais. Consequently, she went abroad to study at Université Paris-VIII where she fulfilled her desire by watching no less than 1,000 films.

In 1992 at the age of 33 after returning from abroad, she entered the film industry through director Yeo Kyun-dong's Out to the World. That summer, she was inspired to make her own film, so she directed the short film Walking in the Rain (1994) and won the Best Picture Award at the 1st Seoul World Short Films and Videos.

After making her feature debut with the film, Three Friends, which was a simple story of the titular three friends who failed to get into college, she directed stories of the socially weak and alienated with Waikiki Brothers and The Weight of Her, for which she caught the attention of critics. She then found commercial success with Forever the Moment, which portrayed the story of the female handball team that performed brilliantly at the 2004 Summer Olympics in Athens.

With the 2018 film, Little Forest, which achieved both critical and commercial success, she stands tall as a woman filmmaker with 22 years of experience, the sixth female director after Park Nam-ok with whom she became acquainted with through Keeping the Vision Alive, her documentary that explores women of Korean cinema.

필모그래피
WALKING IN THE RAIN (short) (1994)
THREE FRIENDS (1996)
KEEPING IN THE ALIVE (documentary)(2001)
WAIKIKI BROTHERS (2001)
THE WEIGHT OF HER (short) (2003)
FOREVER THE MOMENT (2007)
FLY, PENGUIN (2009)
ROLLING HOME WITH A BULL (2010)
SORRY, AND THANK YOU (2011)
SOUTH BOUND (2012)
WHISTLE BLOWER (2014)
LITTLE FOREST (2018)